Consultations offered at our three convenient locations in Houston, Katy, and Webster, TX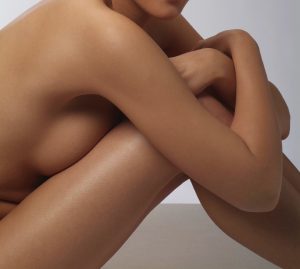 Jogging, hiking, lifting weights, kale salads… they can only sculpt the body so much.
When you have hit that plateau and are considering a cosmetic body sculpting procedure, liposuction is usually the first thing that comes to mind. However, huge advancements in the medical field have changed the face of body sculpting. Houston Weight Loss Center offers CoolSculpting, the top non-surgical fat reduction procedure.
What is CoolSculpting Non-Invasive Fat Reduction?
CoolSculpting by Zeltiq is a completely non-invasive fat reduction procedure; it does not require anesthesia, incisions, or recovery time.
This FDA cleared device emits 39 degrees Fahrenheit temperature to disrupt fat cell membranes and effectively remove them from the body through the natural elimination process. It is important to mention that this treatment actually destroys the fat cells, and once they are destroyed, they cannot regenerate. Weight loss from working out and dieting, on the other hand, does not have the same effect. Weight loss is merely the shrinking of fat cells, but the cells still exist and have the ability to regain mass.
How Does CoolSculpting Work?
The science of Cryolipolysis, the basis of CoolSculpting, was discovered when two scientists noticed dimples formed in the cheeks of those who ate popsicles. It was realized that it is the cold temperature of the popsicle that caused the direct destruction of the cheek fat cells. Taking this interesting finding, they applied this science to fat reduction for other areas of the body. A specially designed applicator emits controlled cooling for a specific amount of time to the target area. The process of fat cell destruction and natural elimination takes about three weeks. Adults cannot regenerate new fat cells, so once destroyed, the target area will stay slimmed so long as the patient maintains a healthy lifestyle.
Special Applicators & Treatment Areas
Houston Weight Loss Center offers the latest generation of CoolSculpting technology, with treatment times as short as 35 minutes.
Many body areas can be treated with CoolSculpting including:
Abdomen
Arms
Back
Banana Roll
Bra line
Calves
Chest
Chin
Hips
Knees
Love handles
Neck
Saddle bags
Waist
Thighs
Who is a Good Candidate for CoolSculpting?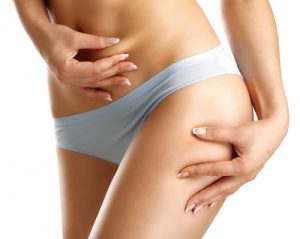 Almost every woman and man who comes in for a CoolSculpting consultation will qualify as a candidate since the treatment is non-invasive. However, it is important to stress that CoolSculpting should not take the place of losing weight by normal means of eating well and working out. These aforementioned practices should actually be continued long-term for optimal treatment results. Good candidates should be within 40 lbs of their goal weight.
If you are slightly over this number, please still contact us to request a consultation; CoolSculpting candidates are qualified by individual cases. Our body sculpting experts at our Houston location can determine the optimal treatment method for your individual case, whether that be CoolSculpting or a comparable alternative.
Before & After Photos





What to Expect During Your Treatment
>When you arrive at our office we will seat you in a comfortable treatment chair. The area in which you are receiving CoolSculpting will be cleaned and prepped for treatment. Numbing solution is not necessary because the treatment is non-invasive and simply not painful. The cold tends to act as its own numbing agent.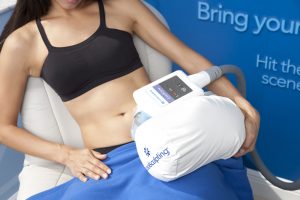 A specially designed frame will be fastened on top of the treatment area in which the CoolSculpting applicators will be placed. The CoolSculpting frame is designed to provide treatment accuracy and the applicator is what emits the cool temperature. Once everything is in place, the cold temperature is discharged and controlled by a body sculpting specialist. After that, you just need to kick back and relax!
Our patients find this an enjoyable experience because they can watch a 30 minute TV show or scroll Facebook and then the treatment is over! The CoolSculpting expert may massage the area or place a compression garment to help reduce post-treatment swelling. Patients are free to go home or back to work after treatment; there is no recovery.
After CoolSculpting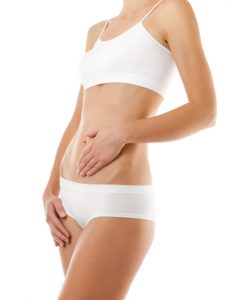 One of the best parts of CoolSculpting is that patients do not need to take any downtime; they are free to go about their day as normal. Redness and slight tingling or numbing from the cold is normal and will dissipate quickly when the skin is back to regular body temperature; this is a matter of hours. It is asked that patients do not partake in strenuous or labor-intensive activities for a day or two.
Patients are able to start seeing results after about a month. This is about how long it usually takes for the dead fat cells to begin going through the body's natural elimination process. This process continues and destroyed fat cells are discarded until they are all eliminated. After this point has been reached (about 6 months), beautifully sculpted results can be enjoyed.
How Long Until I See Results?
Since the procedure works with the body, patients can see results when their bodies naturally eliminate the sensed destroyed cells. This usually takes about 3 weeks to begin. Once initiated, results continue to become visible as the body continues to discard the dead fat cells. Best results are usually enjoyed in about 6 months.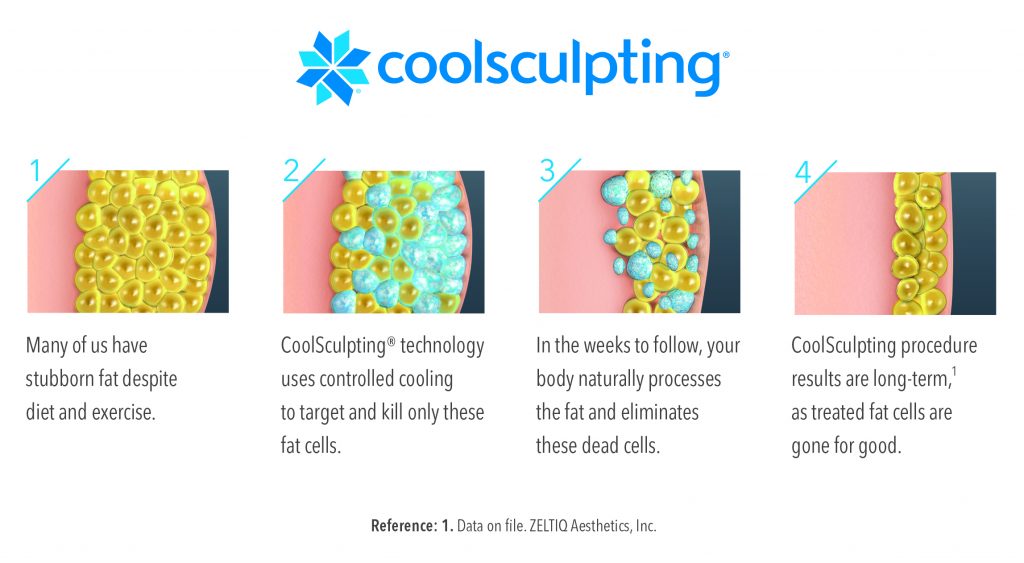 This aspect makes CoolSculpting so sought after because results appear gradually, unlike standard liposuction which shows slimmed results abruptly which can make it obvious that you've had work done.
Schedule Your Consultation
We understand that everyone hits a roadblock on their weight loss journey at some point; we are here when that happens. During your private CoolSculpting consultation, the body sculpting expert will have a discussion with you about your problem areas, your dislikes, and your goals. The expert will explain what can realistically be accomplished and review your medical history and routine medication to make sure CoolSculpting is a safe option.
An examination will then take place of the areas of concern, and from the aforementioned information, candidacy can be determined. A quote will be provided based on the treatment areas and the number of sessions necessary to accomplish your aesthetic goals. While this cannot be guaranteed, same day treatment is sometimes an option. Please let the staff member who schedules your consultation aware of this interest so we can try our best to accommodate you.
We applaud you on your weight loss journey; we are here to simply help you over the last hurdle. Schedule a consultation today to see how non-surgical CoolSculpting can help you.
How Much Does CoolSculpting Cost?
For a limited time, Houston Weight Loss Center has CoolSculpting special pricing.
CoolSculpting price is determined on the area you want to be treated and how many sessions it will take to achieve your desired result. Contact our office and schedule a consultation in order to get an individualized quote.