This quick and easy recipe is great for meal prep. It's easy to throw together, won't break the bank, and it's tastier than weight loss food has any right to be. If you really, really hate brussels sprouts… well, still give this a try. Uncooked brussels sprouts have a different flavor than the overcooked variety you're probably used to. They're very crunchy, slightly spicy, and they add a depth of flavor to salad that your usual lettuce just doesn't. Plus, it's chock full of vitamins and minerals.
We highly, highly recommend getting the brussels sprouts and kale pre-washed and pre-chopped if you can. It only costs a few cents more and the time you save slicing and chopping is well worth it. Sadly, we did have to journey a little far to find these wonderfully crunchy chickpea snacks – all the way to Whole Foods. No one else had them in stock! Not everyone has a Whole Foods close by so keep that in mind. You can always order them online but you'll have to do that in advance. Alternatively, you can just skip them (see calories below), but they add a really pleasantly crunchy texture. Croutons might be a good substitute, but they won't stay as crunchy in the fridge.
Even with the trip, this was a really cost-effective meal. We already had olive oil, lemons, and garlic, and we were able to pick up tahini on sale for only $3, and even using pre-chopped veggies the total cost for four servings was under $15! Of course that'll be a little bit more if you're having to pick up olive oil, but $3.75 for a meal as healthy and filling as this is a steal.
Ingredients
Salad
4 cups kale (pre-washed and chopped)
10 oz brussels sprouts (shredded or shaved)
1 medium avocado
5oz bag roasted chickpeas with sea salt
Dressing
3 tablespoons tahini
3 tablespoons water
2 tablespoons lemon juice
1 clove garlic
2 tablespoons olive oil
1 tablespoon lemon zest
¼ teaspoon salt
Active time: 10 minutes | Servings: 4
Directions
Prepare the dressing first. Chop garlic finely and add to a small bowl. Add the tahini, water, lemon juice, salt and olive oil. Whisk until combined. Top with lemon zest.
Divide the kale evenly among four containers (1 cup per container). Do the same for the brussels sprouts (that's 2.5oz if you're using a 10oz bag)
Add ¼ cup of dried chickpea snacks to each container.
Chop avocado into 1/4s, then dice. Optional: coat the avocado slices with a bit of lemon juice to keep them from browning.
Portion out 2 tablespoons of the tahini dressing into four small containers for each serving. You may have a little bit left over (total dressing volume is 10 tablespoons) but we've discovered that some gets left behind when transferring, so you always want to make just a little bit more than you think you'll need.
Enjoy! The chickpeas will stay crunchy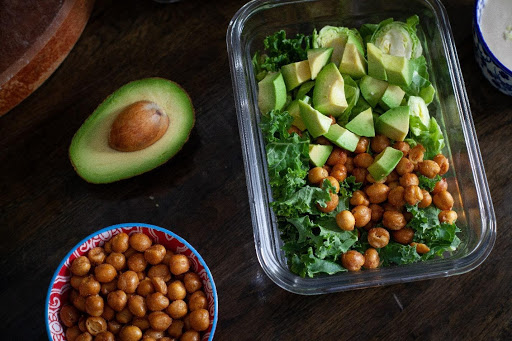 Nutrition Breakdown
Per serving: Calories 401, Fat 29.5g, Protein 12.2g, Carbohydrates 33g, Sugar 2.6g, Sodium 389.2mg, Fiber 13.2g
| | | | | | | | |
| --- | --- | --- | --- | --- | --- | --- | --- |
| Ingredient | Calories | Fat | Protein | Carbs | Sugar | Sodium | Fiber |
| Brussels Sprouts (2.5 oz) | 27.5 | 0.2 | 2.2 | 5.8 | 1.3 | 15.0 | 2.5 |
| Kale | 34.0 | 0.5 | 2.2 | 6.7 | 0.0 | 29.0 | 1.3 |
| Chickpea Snacks | 120.0 | 6.0 | 6.0 | 16.0 | 1.0 | 190.0 | 6.0 |
| Avocado (1/4) | 80.5 | 7.5 | 1.0 | 4.3 | 0.3 | 3.5 | 3.3 |
| Tahini | 20.6 | 1.8 | 0.8 | 0.3 | 0.0 | 4.2 | 0.2 |
| Olive Oil | 119.0 | 13.5 | 0.0 | 0.0 | 0.0 | 0.0 | 0.0 |
| Salt | 0.0 | 0.0 | 0.0 | 0.0 | 0.0 | 147.5 | 0.0 |
| TOTAL | 401.6 | 29.5 | 12.2 | 33.0 | 2.6 | 389.2 | 13.2 |