Caldo de Pollo is a perfect soup for cold weather… when it happens. Soups in general are an excellent way to feel full on less calories – see the energy density diet for more on that.
There are as many versions of caldo de pollo as there are of chicken soup. Some are brothy, others have a rich tomato flavor. Some recipes include bay leaves, cabbage or chayote squash while others don't. Some are spicy, most aren't. There's no wrong way to make chicken soup, but everyone has their own favorite family recipe.
All that said, there are some standards that usually apply to every recipe for caldo de pollo, and we've had to make some changes to make this recipe low fat. Typically, caldo de pollo is made with bone-in chicken thighs or drumsticks, which are simmered for about an hour (often with a blend of spices) to make a flavorful broth.
To make this low fat, we had to substitute the dark meat for chicken breast. That's going to be a deal-breaker for many people, so just know that if you want to make this with six chicken thighs instead of three chicken breasts, go ahead. As long as that fits your plan, there's nothing wrong with it – it just won't be low-fat. The final calories per serving will be 410 (almost a 100-calorie difference) and 13.7g of fat.
Caldo de pollo is also usually made with potatoes, rice, and served with warm corn tortillas and a lime wedge, plus optional avocado. We've kept the potatoes and the lime wedge but eliminated the tortillas and avocado – although this soup is naturally healthy and fairly low calorie, the more condiments you start adding, the more carbs, calories, and fats you'll need to track.
Remember, recipes are just a starting point. To make this low carb, you could remove the potatoes. To make it low calories, remove the potatoes and remove some of the chicken. To make it low sodium, opt for a low or no-sodium chicken broth.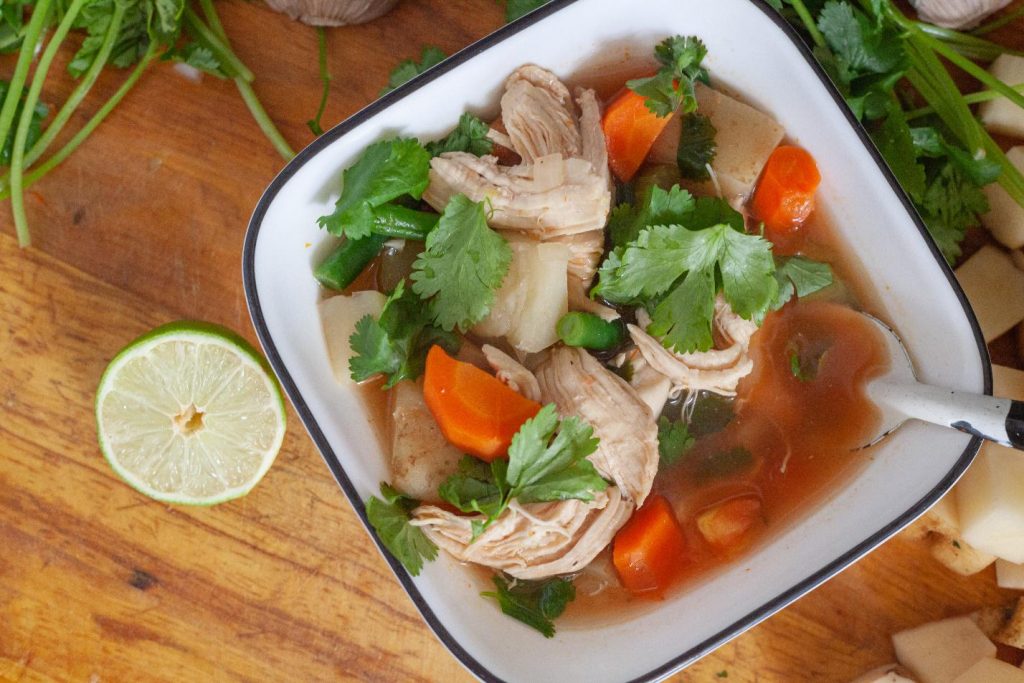 Total time: 1 hour
Servings: 4-6 (2 cups)
Ingredients
3 Chicken breasts (or 6 thighs)
2 large carrots, peeled and cut into ½ inch pieces
2 calabaza squash or zucchini, cut into ½ inch slices and then halved
2 stalks of celery, chopped
1 cup onion, diced
1 roma tomatoes, diced
1 tablespoon of chopped garlic (about 3 large cloves)
2 medium white potatoes, chopped into ½ inch cubes (about 1 lb)
4 cups of water
4 cups of chicken broth (if using thighs, use water instead)
1/3 cup tomato sauce
Directions:
Ensure all vegetables are washed and prepped. Cut chicken breasts in half for a quicker cook time.
Add the water and chicken stock (4 cups each) to a large pot. Add the chicken. Bring to a boil then simmer for 30 minutes.
While the chicken is cooking, add the onion and garlic to a small skillet (no need for oil). Cook at medium heat until the onion is translucent (about 3 minutes) then add the tomatoes and cook for another five minutes.
Remove the chicken breast from the pot using a pair of tongs. Set aside in a medium bowl. You can put them in the fridge for faster cooling.
Add potatoes, carrots, celery, squash and green beans to the pot. Bring to a boil and reduce to a simmer. Add the onion and tomatoes. Cook for 15 minutes.
Shred the chicken into bite-sized chunks. Add the chicken, tomato sauce and cilantro to the pot.
Serve with a lime wedge
Nutrition Breakdown: Make 4-6 servings, depending on the size of your vegetables. Calories 317.5, Fat 2.4g, Protein 27.5g, Carbs 47.2g, Sugar 9.3g, Fiber 8.5g
| | | | | | | | |
| --- | --- | --- | --- | --- | --- | --- | --- |
| Caldo de Pollo | Calories | Fat | Protein | Carbohydrates | Sugar | Sodium | Fiber |
| Chicken Breasts (3) | 390.0 | 4.4 | 81.8 | 0.0 | 0.0 | 231.0 | 0.0 |
| Carrots (2) | 60.0 | 0.4 | 1.2 | 14.0 | 6.4 | 100.0 | 4.0 |
| Mexican Squash / Zucchini (2) | 40.0 | 0.4 | 3.0 | 8.2 | 4.2 | 24.0 | 2.8 |
| Celery (3 stalks) | 18.0 | 0.2 | 0.8 | 3.6 | 2.2 | 96.0 | 1.8 |
| Onion (1 cup) | 67.0 | 0.1 | 1.5 | 16.2 | 6.9 | 5.0 | 2.2 |
| tomato sauce (1/3 cup) | 30.0 | 0.2 | 1.1 | 6.0 | 3.5 | 9.0 | 1.2 |
| White Potatoes (2 large) | 516.0 | 0.7 | 12.4 | 120.0 | 8.4 | 44.0 | 17.8 |
| 2 roma tomatoes | 50.0 | 2.0 | 2.0 | 4.0 | 4.0 | 10.0 | 0.0 |
| 1 cup green beans | 34.0 | 0.1 | 2.0 | 7.8 | 1.5 | 7.0 | 3.7 |
| 1/2 cup cilantro | 2.0 | 0.0 | 0.2 | 0.3 | 0.1 | 4.0 | 0.2 |
| 4 cups water | 0.0 | 0.0 | 0.0 | 0.0 | 0.0 | 0.0 | 0.0 |
| 4 cups chicken stock | 48.0 | 1.2 | 3.8 | 6.0 | 0.0 | 3168.0 | 0.0 |
| 1 tablespoon garlic | 15.0 | 0.1 | 0.3 | 2.8 | 0.1 | 3.0 | 0.3 |
| Total | 1270.0 | 9.8 | 110.0 | 188.9 | 37.2 | 3701.0 | 34.0 |
| Per serving (4 servings, approx 2 cups) | 317.5 | 2.4 | 27.5 | 47.2 | 9.3 | 925.3 | 8.5 |