Eating low carb can be a lot of fun if you love cheese and tortillas. You're probably familiar with the concept of choosing a wrap as opposed to a sandwich in order to eat less carbohydrates. And while it's true that tortillas will have less carbs than bread, until recently they weren't very low in carbs, especially flour tortillas.
That's changed with the advent of low carb flour tortillas. These tortillas don't actually have fewer carbs than your standard flour tortilla, but what they do have is added fiber. That means each of these tortillas is only 4g of net carbs – and the quesadilla is back on the menu (not familiar with net carbs? Check out our page on counting carbs). We're using Mission brand low carb tortillas which are widely available, but there are other brands, including generic store brands that can be just as good for a little less money.
The absolute key to a good chicken quesadilla is spices, spices, spices. With just a tortilla and cheese, a quesadilla can actually be kind of bland. Don't hesitate to add chili pepper to the chicken and we recommend making liberal use of fresh jalapenos. The great thing about spices, especially dried spices, is that they don't have any measurable amount of carbs or calories, so you're able to go wild and add as much flavor as you want.
It may surprise you how many foods that might go into a quesadilla aren't low carb. Onions, for example, might seem like a low carb food but they are surprisingly high in sugar – that's one reason everyone loves them, for their mix of spicy, earthy, and sweet flavors. In moderation, onions can be a healthy part of a low carb or keto diet, but you have to watch the amount of carbs that some vegetables have. They start to add up!
Another thing that's not low carb? Most salsas! Canned salsas you buy from the store (and even some you can make from home) aren't very low carb-friendly, so skip them if at all possible. They may say they're only 5g of carbs, but often the serving size is only 2 tablespoons – who only eats two tablespoons of salsa? What's totally fine for a low carb diet is hot sauce – which can be confusing as the words "salsa" and "hot sauce" are sometimes used interchangeably. Hot sauces like Cholula or Tabasco tend to have very low calories – almost zero. Look on the label to determine whether your spicy sauce of choice is helping or hurting your carb count.
While we are mostly counting carbs for this recipe, as you know from our section on eating low carb, eating a low carbohydrate diet is a way to deal with hunger. Ultimately calories are still king, so wait a minute before you load up on extra cheese, guacamole and sour cream. Remember that you also need to consider calories. It's common sense that eating a whole block of cheese isn't a great weight loss strategy – just because something is low carb doesn't mean it's a good idea. This recipe as written comes out to about 500 calories per serving, which should be enough to satisfy without feeling stuffed, but if you do add extras, make sure that you log them in your food planner.
Total time: 20 minutes
Servings: 4
Ingredients:
1 teaspoon Chipotle pepper
1 teaspoon chili powder
1 tablespoon of olive oil
1 tablespoon of Canola oil plus 1 teaspoon
¼ cup cilantro leaves
2 Roma tomatoes
16oz chicken breast
4 Mission Low Carb Tortillas
2 cups shredded Monterrey Jack
1 cup shredded mild cheddar
1-2 fresh Jalapenos
Cholula Chipotle Pepper Sauce (optional)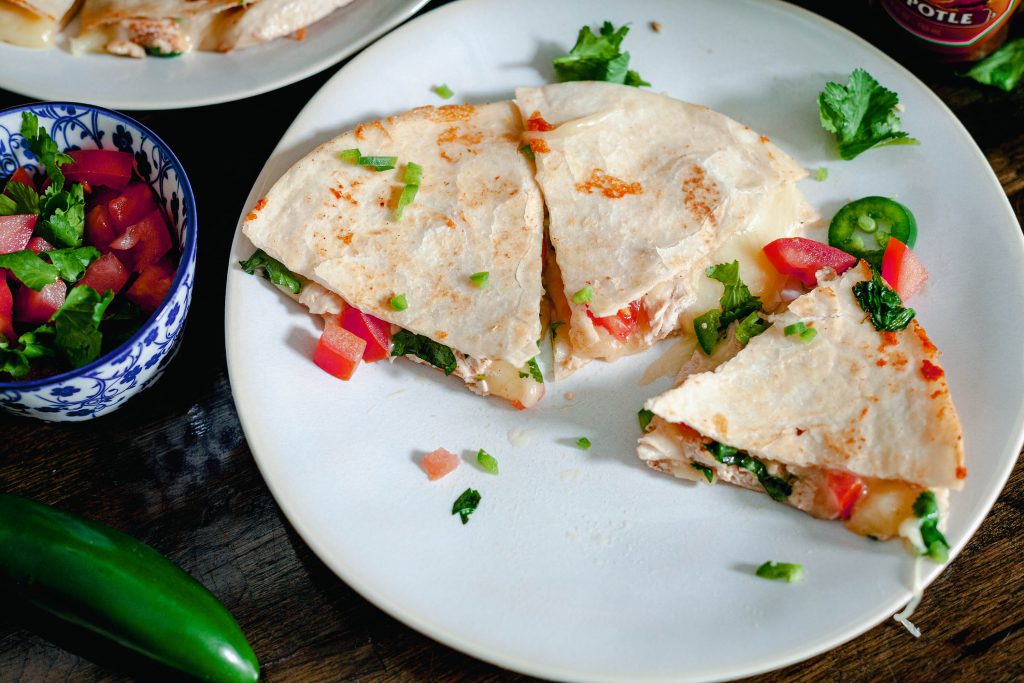 Instructions:
Wash vegetables thoroughly, especially cilantro as dirt likes to hide in the leaves.
Dice the two Roma tomatoes and separate the cilantro from the stems (or don't, there's nothing wrong with using the stems and it is less work). Give the cilantro leaves a rough chop and set the tomatoes and cilantro aside in a small bowl. Chop or slice jalapenos however you like and set those aside as well.
Chop chicken breast into ½ inch strips and coat with chipotle pepper and chili powder. Set a medium-size skillet on the stove and turn the burner to medium heat. Add olive oil and cook, turning every 1-2 minutes, until chicken is no longer pink, about 5-6 minutes total. Set chicken aside on a cutting board to cool slightly.
Mix together the Monterrey jack and the cheddar cheese. Together this should make three cups. We are making four quesadillas (one tortilla for each) so each quesadilla will get ¾ cup of cheese mixture.
Once the chicken breast has cooled, chop it up further so that there are smaller pieces throughout the quesadilla rather than big chunks.
At this point you have a choice. You can cook the quesadillas one at a time or two at a time. To cook one at a time, follow the instructions below. To cook two at a time, you'll do the same process but add double the ingredients and instead of folding the tortilla (which is easier but less pretty), you'll have to add another tortilla on top and flip it.
Add one teaspoon canola oil to the skillet and return the heat to medium. Place one tortilla onto the pan's surface. Add ¾ cup of cheese mixture, ¼ of the chicken (3-4oz), ¼ of the cilantro and tomatoes, and however much jalapeno you like.
Cook until the cheese melts, then fold the tortilla in half and flip. The quesadilla is done when the tortilla is nice and crispy on both sides and the cheese is fully melted.
Transfer to a cutting board and cut each serving into three triangles. Serve with hot sauce and sprinkle with any remaining jalapenos.
Nutrition Breakdown:
Makes 4 servings. Per serving: Calories 564, Fat 38.7g, Protein 45.6g, Carbs 16.5, Net carbs 7.4g, Sugar 1.1g, Sodium 982mg, Fiber 9.1g
| | | | | | | | |
| --- | --- | --- | --- | --- | --- | --- | --- |
| Ingredient | Calories | Fat | Protein | Carbohydrates | Sugar | Sodium | Fiber |
| Olive Oil 1 tbsp | 119 | 13.5 | 0 | 0 | 0 | 0 | 0 |
| Canola oil 1 tbsp | 120 | 13.5 | 0 | 0 | 0 | 0 | 0 |
| 2 roma tomatoes | 70 | 2 | 2 | 4 | 4 | 10 | 0 |
| Cilantro (1/4 cup) | 1 | 0 | 0.09 | 0.15 | 0.03 | | 0.1 |
| 16 oz (1 lb) chicken breast | 440 | 10 | 92 | 0 | 0 | 800 | 0 |
| 4 Mission Low Carb Tortillas | 180 | 8 | 16 | 48 | 0 | 840 | 36 |
| 2 cups shredded Monterrey Jack | 880 | 72 | 48 | 8 | 0 | 1440 | 0 |
| 1 cups shredded Cheddar (mild) | 440 | 36 | 24 | 4 | 0 | 720 | 0 |
| Jalapeno pepper | 4 | 0.09 | 0.19 | 0.83 | 0.48 | 0 | 0.4 |
| Chipotle Pepper Hot Sauce (1 tsp) | 0 | 0 | 0 | 1 | | 115 | 0 |
| Total | 2254 | 155.09 | 182.28 | 65.98 | 4.51 | 3925 | 36.5 |
| Per Serving | 563.5 | 38.7725 | 45.57 | 16.495 | 1.1275 | 981.25 | 9.125 |